Glass Items
Since the Hazel-Atlas Galss Company had a plant in Davis' home town of Clarksburg, WV, they made some commemorative items for their famous citizen.
JWDJ-41

Clear glass candy or berry dish with smooth edge. Text reads "Compliments of Hazel-Atlas Glass Co. John W. Davis Day August 24, 1924 Clarksburg, W Va."

JWDJ-42

Identical item except for ribbed edge. (Difference in color is due to lighting.)

JWDJ-40

Glass paperweight.
Miscelaneous Items
This item doesn't fit into any other category.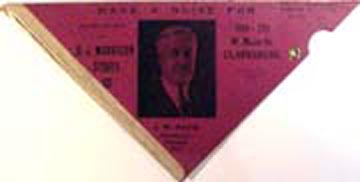 JWDJ-50
Cardboard noisemaker. Text reads: "Make a noise for J. W. Davis, Clarksburg's Favorite Son, Compliments oof O. J. Morrison Stores Co., 209-25 W. main St., Clarksburg, Take hold here, strike down quick and hear it crack. Adv. Novelty Co. Chicago."